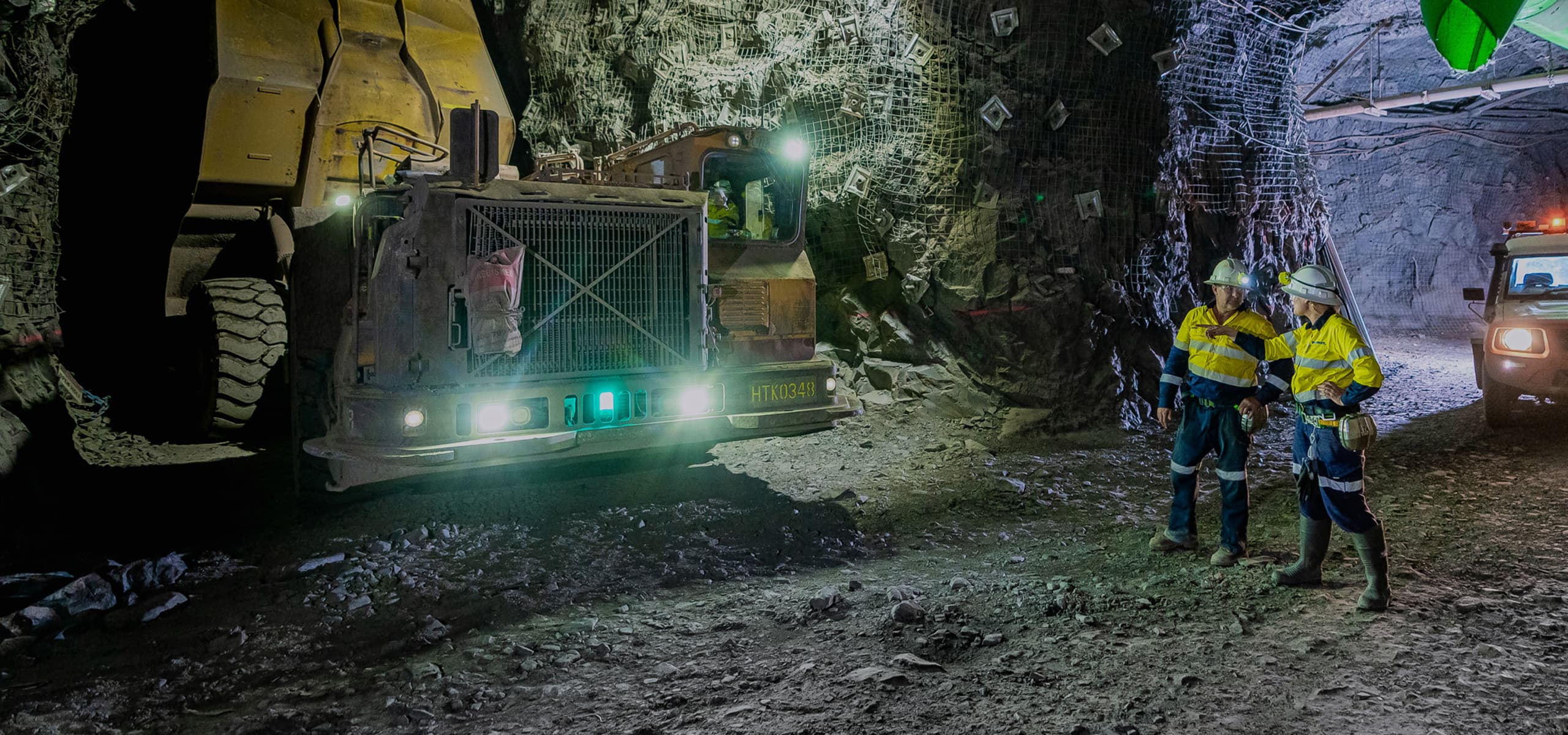 Health and Safety
The health, safety, wellbeing and security of our employees and communities are our priority. Safety is one of Newmont's core values, and in 2022 we launched a refreshed three-year global Health, Safety and Security Strategy to advance our journey toward an injury-free and illness-free workplace. This Strategy focuses on employee engagement, vital behaviors, leadership coaching, field interactions, and mitigation of safety and health risks.
Strategy and Management Approach
The updated Strategy recognizes our progress while also acknowledging the need to improve our performance further. It links our health, safety and security work together across three themes:
Act on risk – Control future outcomes by acting to reduce risks and minimize potential impacts.
Actively care – Consistently take action to engage and support our employees and business partners.
Apply knowledge – Foster a knowledge-sharing mindset, apply what we learn and inspire innovation.
Supporting and extending the impact of our strategy are the following three amplifiers:
Data – Consolidate the various data systems into a data warehouse, from which we can analyze and obtain insights.
Technology – Leverage new and existing technology and innovation to provide data, reduce risk, improve decision making and engage our people.
Communications – Encourage communications with employees and contractors (particularly those on site with the most significant exposure to risks) to remain focused on the right work and retain agility based on our changing environment and risk profile.
The Strategy will track efforts to build (identifying capabilities, frameworks and tools we need to develop), embed (penetrating, engaging and sustaining impacts) and expand (growing and collaborating) work across the health, safety and security programs.
Safety
Over the last three years, we have shifted our approach to maintaining a fatality-free workplace by incorporating human performance principles into our Fatality Risk Management System. The focus areas of this approach include:
Consistent implementation of Critical Control Verifications
Simplified safety standards
Supported training and coaching
Combine safety and culture reviews
Health
Our fatigue risk management framework focuses on accommodations and shift and roster design as the primary controls to effectively manage risk. Our Fatigue Management Standard includes the minimum requirements to prevent fatigue-related performance impairment and incidents. These involve limits on consecutive night shifts, total working times no longer than 14 hours, start times at 6 a.m. or later, and private sleeping accommodations at operations with accommodation camps. The framework also includes installing fatigue detection technology in our haul truck fleet, other heavy vehicles, buses and light vehicles to help identify fatigued employees and raise awareness of fatigue risks.
Our wellbeing framework aims to support those with an injury or illness and promote better health outcomes. The framework addresses all aspects of wellbeing – physical, emotional, financial and social – and focuses our efforts across three pillars:
Support – Reducing barriers (e.g., easing access, reducing stigma, raising awareness) so that those experiencing mental (or physical) health concerns receive support.
Prevent – Making sure work tasks, the way we work and workplaces are designed to support all elements of an individual's wellbeing.
Promote – Going beyond preventing ill health and promoting optimal health.
Community health is important to Newmont and every mine site either operates an on-site clinic or partners with external facilities that provide emergency care, primary care and health services to company personnel and community members.
Mine Emergency Response Teams
Our mine sites are equipped with an on-site Mine Emergency Response Team (MERT) made up of men and women who are highly skilled professional miners – equipment operators, mechanics, electricians, blasting technicians, geologists, engineers, etc. – who bring important work experience to their roles on the team. Members of the MERT teams are trained emergency medical technicians (EMT) and emergency medical responders (EMR).